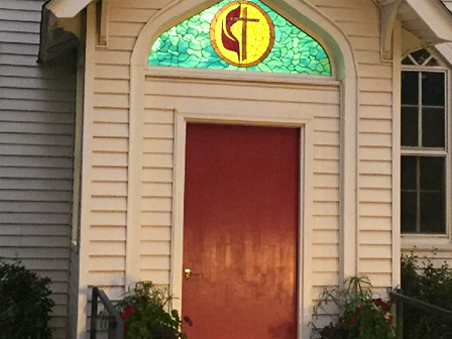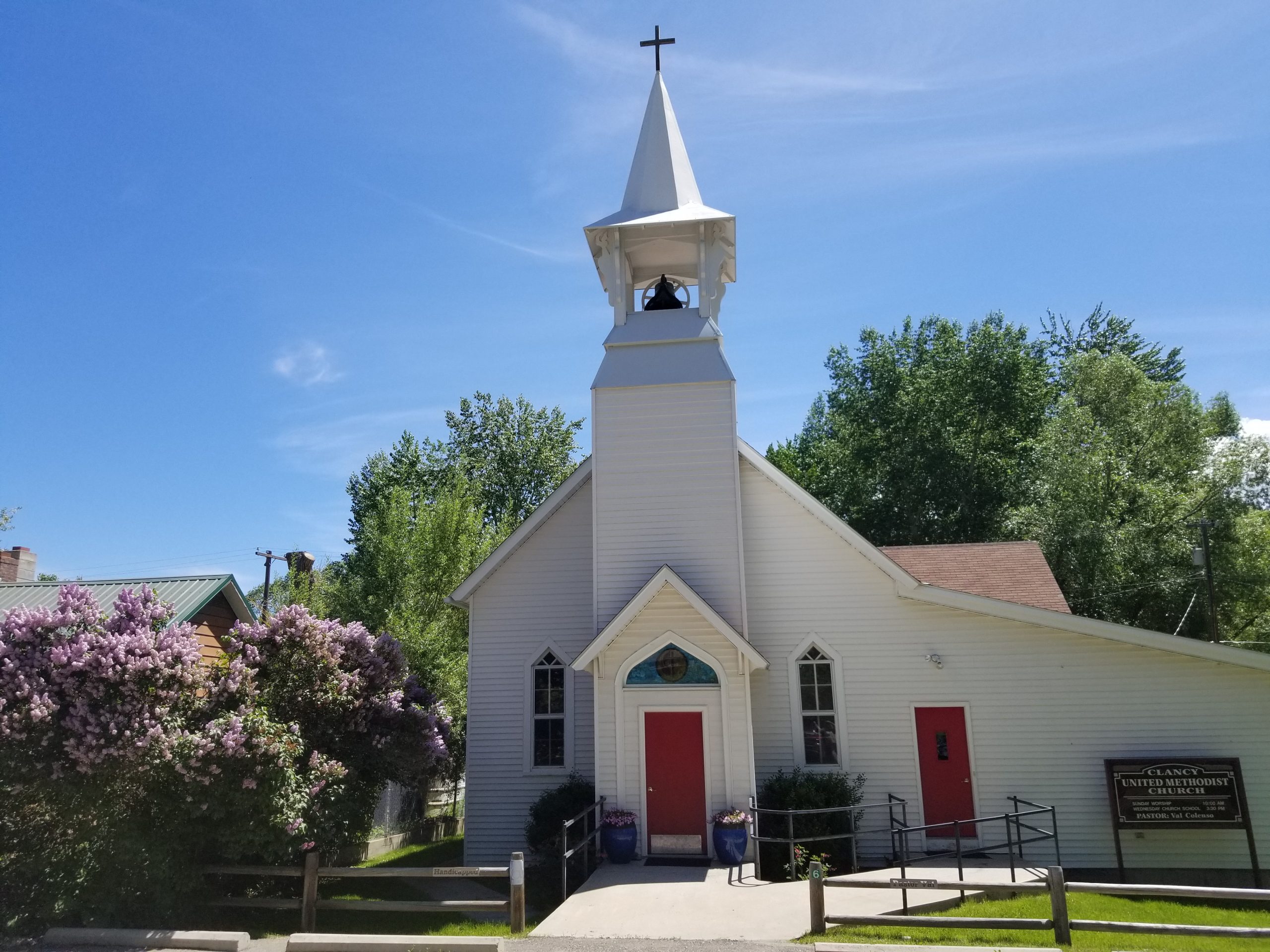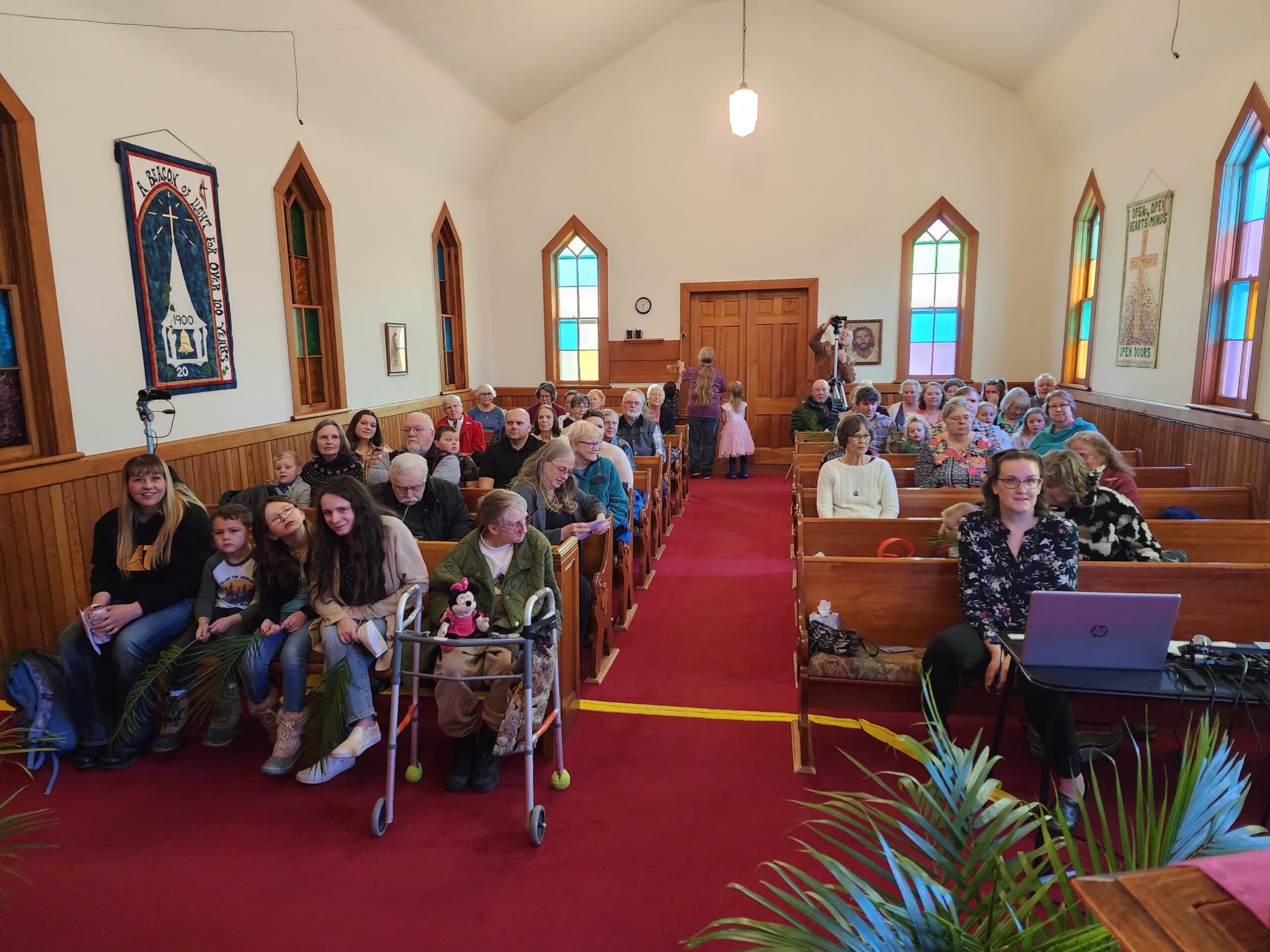 Please join us on Sunday mornings at 10:00 am for in-person or online worship.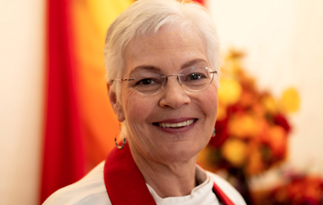 Meet our Pastor Val Colenso.
Clancy United Methodist Church is located at 6 North Main Street Clancy, MT 59634-0030.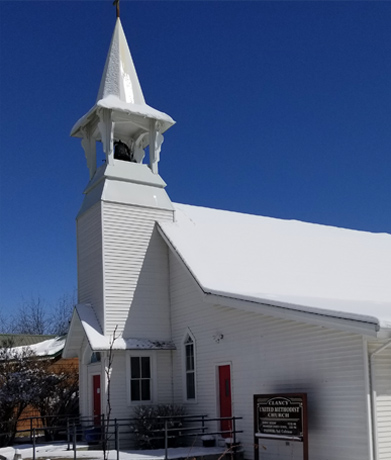 You are warmly invited to come and worship with us and experience God's grace through our time together. We recognize that people look for God in many ways. Whether you visit in person or online, we hope you discover something here to encourage you in your spiritual journey.
The people of Clancy UMC seek to provide a nurturing and supportive atmosphere for people of all ages where we may worship, teach God's word, develop lay leadership, and reach out in mission and ministry to our local community and beyond as we work to fulfill our mission to share the word, love, and grace of God with every church family member and person in our community.
We are a multi-generational Methodist Church in a rural Montana setting with rural Montana ethic, character, caring, and love. We welcome visitors from all walks of life and want you to know that whoever you are and wherever you are on your walk of faith, you are welcome in this place.
Our worship service (blended traditional, and live-streamed on the Clancy UMC Facebook page) begins at 10:00 a.m. on Sundays, with Sunday School beginning about 10:15 a.m. Nursery care is available. We enjoy each others' company at a coffee hour following the service. This is a small, warm, and welcoming church with a big heart! Come and join us for worship!!!
THANKSGIVING POTLUCK
Join us as we celebrate Thanksgiving a little early this year with our first annual Thanksgiving Potluck following worship this Sunday, November 12. Boulder UMC will join us for worship at 10:00 a.m., followed by a turkey dinner with all the trimmings! It will be a festive time of feast and fellowship – we hope to see you there!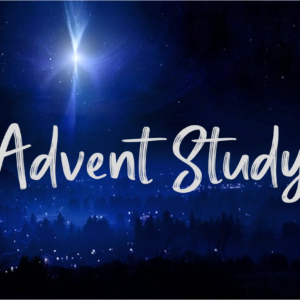 Christmas is coming! Many people find that Christmas is richer and more meaningful when they observe the season of Advent in the four weeks leading up to Christmas. One of the ways we can keep Advent is to participate in an Advent study. While our study itself has not yet been chosen (but will be announced soon both here and on the Clancy UMC Facebook page), the Clancy Church Advent study will begin on November 28 at 10:15 a.m. The Boulder Church study will begin on November 30 at a time to be determined.
We would love to have those of you who worship with us online through Facebook join us for this Advent study via Zoom, which will give you an opportunity to actively participate with those meeting in person.
Please contact Pastor Val to sign up, or for further information.